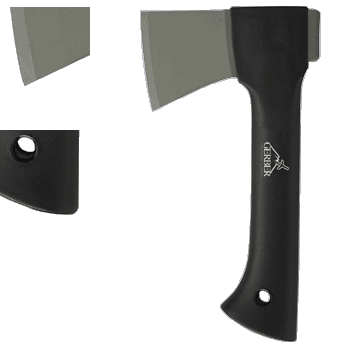 click on image to enlarge
Gerber

45912

Technical Specs:
Blade Length: 2.70 inches
Overall Length: 9 inches
Blade Material: Forged Steel
Handle Material: Polymid Fiberglass
Weight: 16.90oz.
UPC Code:

013658459120

Made in Finland.



Gerber Back Paxe 45912

Description:



The Back Paxe is Gerber's lightweight, easy-to-pack hatchet that is both functional and convenient. The Back Paxe combines a full size hatchet head with a compact, space saving handle. The axe head is made of forged steel, tempered to take and hold a superior cutting edge. The axe handle is made of Polyamide, a virtually unbreakable fiberglass reinforced polymer. Gerber's manufacturing process actually molds the Polyamide handle around the axe head, insuring that it will never separate or come loose from the handle under normal use. Like the rest of Gerber's axes, Back Paxe will prove to be indispensable to backpackers, kayakers, rafters, hunters, and other outdoor enthusiasts whose activities call for functional, space-saving equipment.