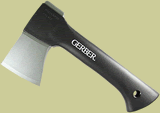 click on image to enlarge
Gerber

31-000912

Technical Specs:
Overall length: 9 inches
Blade material: 55HRC steel w/ PTFE coating
Operating temperature: -58 to + 128 deg F
Handle material: FiberComp (reinforced fiberglass composite)
Weight: 16.9 oz
UPC Code:

013658122376

Made in Finland.



Gerber Back Paxe II Axe 31-000912

Description:



Have you ever been on a hike or camping trip and have the handle of your axe break or come loose from the head? It is such an aggravating inconvenience! With the Gerber Back Paxe II model 31-000912 you wil not have to worry about the handle breaking or separating from the axe head. The fibercomp handle is practically indestructible and has been molded around the forged steel head. The hatchet is perfectly balanced to provide full impact with each swing. Lightweight and compact, the Back Paxe II comes with a molded plastic sheath with a beltloop attached for comfortable carrying. This makes the axe ideal to take on hikes or campouts.