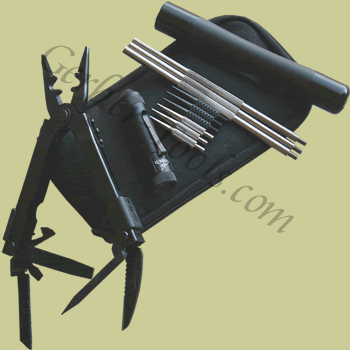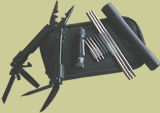 click on image to enlarge
Gerber

05982

Technical Specs:
3 Titanium probe tips, 3 nylon probe tips
Titanium probe shaft
Infinity Ultra flashlight
National Stock Number (NSN) 5180-01-516-3229
Weight: 22 oz
UPC Code:

013658059825

MADE IN USA.



Gerber Deluxe Mine Probe Kit 05982

Description:



The Gerber Deluxe Mine Probe Kit 05982 consists of the probe kit, a D.E.T multi-tool, and an Infinity Ultra Task Light. The probe kit has a trio of titanium shafts along with six interchangeable tips (three titanium and three nylon), a nylon handle and Molle compatible carrying sheath. When fully assembled, the probe measures 25 inches in length. The D.E.T multi-tool is black to reduce any tell-tale glare while working in the sun. Components include needlenose pliers with blasting cap crimper, wire cutter, C4 punch, wire crimper, fine edge knife, RemGrit blade, saw with universal coupler, both cross point and flat blade screwdrivers, file, can opener, and lanyard ring. The Infinity Ultra is a military grade flashlight. It has an anodized black finish and features a carrying clip. It is weather resistant thanks to double O rings and a water sealed circuit board. It operates on one AA battery.