3 different Gerber Knife Sharpeners to choose from



---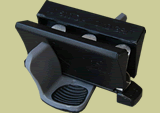 Gerber DF6 Knife Sharpener 22-41846
The Gerber DF6 sharpener model 22-41846 has six diamond coated fingers. One pass through this sharpener is equal to six swipes on a traditional steel. Now you can sharpen all types of knife blades to a 30 degree edge with no worries. It takes a fraction of the time of traditional honing, and requires no sharpening skills.
Overall length: 3 inches
Sharpening angle: 30 degrees
Number of shapening fingers: 6
Sharpening material: diamond coat
Weight: 3.1 oz
In Stock: 10

retail $27.00
our price $14.08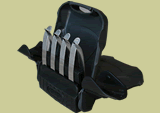 Gerber DF8 Knife Sharpener 22-41847
The Gerber DF8 knife sharpener model 22-41847 is a compact, lightweight and easy to use sharpener. This makes it great for sharpening knives or axes in the field. The diamond coated fingers are designed to reproduce the effect of using a traditional steel. One swipe through the DF8 sharpner is equal to eight swipes on traditional steels. The DF8 sharpens to a 30 degree edge quickly and efficiently while eliminating the need to ever regrind your knife.
Overall length: 3.25 inches
Sharpening angle: 30 degrees
Number of shapening fingers: 8
Sharpening material: diamond coat
Weight: 6.2 oz
In Stock: 8

retail $40.50
our price $20.82


Gerber Diamond Knife Sharpener 09841

Gerber's full line of outdoor recreational equipment includes sharpeners that help the outdoorsman keep knives and tools in working order. The Diamond Knife Sharpener with its pocket clip and retractable sharpening blade is lightweight, easy to carry and easy to use.


retail $10.80
our price $5.83

---