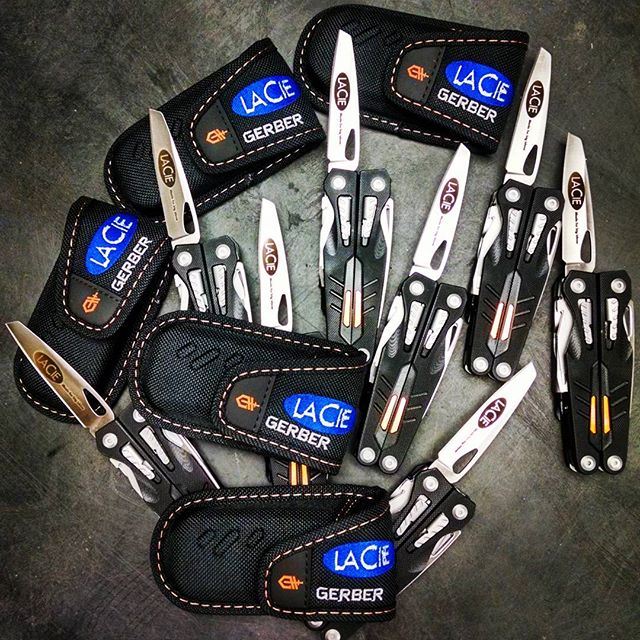 Laser Engraving Services
Personalize your Gerber knives and tools with laser engraving and embroidery. Laser engraving and embroidery is great for groomsmen, company awards, and personal gifts. There is no job too small. There is no job too big either. If you have a big embroidery or engraving job, we want it!
We have laser engravers and embroidery machines on site - Adding laser engraving or embroidery is essentially no delay to your order.
Select "add laser engraving" and/or "add embroidered sheath".
At the bottom of the order form is a text box for you to specify what to engrave/embroider on your item(s).
Provide any special instructions in the text box. We accomodate most requests.
Graphics engraving such as images and company logos require a $25 digitizing fee. It is only necessary to pay this fee once because we'll keep your logo on file for future use. All future orders won't require the $25 digitizing fee and will be charged the orginary per-item laser engraving charge. Call us at (800) 458-1606 or email , and we'll work with you to get your laser engraving job done.
We welcome 3rd party jobs. In fact there are several well-known sites on the internet who send their laser engraving orders to us for fulfillment.
Laser engraving frequently asked questions (FAQ)
Q: Can I give you a .jpg or gif of what I want engraved?
A: Yes you can. That's what we are here for. In fact we can take just about any graphics file you have. Give us your artwork in any format and we'll get it done for you. If there are any problems with your artwork we'll be sure to let you know. Typically the files that cause problems are the small, poor quality files with lots of granulation. Large, high quality graphics are preferred.


Q: How many characters can you engrave on one line?
A: Typically about 33 characters per line, but remember the more characters per line the smaller the engraving. The engraving swath of our laser is about 4 inches wide. There is no setup fee for text engravings.


Q: What fonts can you engrave in?
A: Pretty much anything. If we don't have the font you want we'll try to download it off one of the many free font sites on the internet. If you want a specialized font that costs money let us know, and we can arrange this as well.


Embroidery frequently asked questions (FAQ)
Q: Can I give you a .jpg or gif of what I want embroidered?
A: Yes you can. The artwork will need to be simple in design and typically no more than 3 or 4 colors. You can see by the examples below the logos look really good when they are not complex. Please note that $25 logo setup fees apply for images and logos. Text embroidery does not require a set up fee.


Q: How many characters can you embroider on one line?
A: About 8 characters per line. While our embroidery swath is about 18 inches, the typical knife sheath has only about 2 inches of available space to embroider. If we try to bunch a whole lot of letters onto one line it starts not looking good. The only acception to this would be for items like the Gerber LMF sheaths, where we are able to engrave more than 2 inches on the leg straps. There are no setup fees for text embroidery.


Q: What fonts can you embroider?
A: We have about a hundred or so different fonts available for the embroidery machine. The embroidery machine takes special fonts so we are not able to download them straight from the internet. We typically break our fonts into two categories, script and block. If you need to have a specific font then what we would do is put the font into a graphics program and put it into an image. This would give us the ability to make the product look exactly how you want it. A $25 digitizing fee applies when we convert fonts to images.


Here are examples of our engraving and embroidery work in action:
company logo embroidery on a Gerber sheath
A typical day of engraving at Gerber-Tools.com
Here is a video of controlled fire-burning on a Gerber E-Tool shovel.
This customer wanted his name engraved on his knife blade
Gerber Prodigy with Laser Engraving (click to enlarge)
Gerber sheaths with logo embroidery (click to enlarge)
So what are you waiting for? Let's get started on your laser engraving or embroidery project!