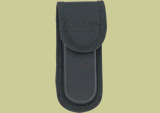 click on image to enlarge
Gerber-Tools.com

BRK-SH280

Technical Specs:
Overall width: 2.25 inches
Overall Length: 5.5 inches
Inside Length: up to 4 inches
Inside width: up to 1.5 inches
Inside thickness: up to 1 inches
Valid Gerber part number: BRK-SH280



Large Thick Black Nylon Sheath

Description:



This extra thick black nylon sheath is 2.25 inches wide, 5.5 inches long, and 1 inch thick. The pocket is 1.5 inches wide, 4 inches deep, and 1 inch in thickness. This sheath is perfect for the larger gerber tools like the Suspension, Fit, Grappler, Strata, EVO, Method, Crutch, Flik, 800 Legend, and Freehand.