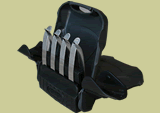 click on image to enlarge
Gerber

22-41847

Technical Specs:
Overall Length: 3.25 inches
Sharpening angle: 30 degrees
Number of shapening fingers: 8
Sharpening Material: diamond coat
Weight: 6.2 oz.
UPC Code:

013658418479

Valid Gerber part number: 22-41847



Gerber DF8 Knife Sharpener 22-41847

Description:



The Gerber DF8 knife sharpener model 22-41847 is a compact, lightweight and easy to use sharpener. This makes it great for sharpening knives or axes in the field. The diamond coated fingers are designed to reproduce the effect of using a traditional steel. One swipe through the DF8 sharpner is equal to eight swipes on traditional steels. The DF8 sharpens to a 30 degree edge quickly and efficiently while eliminating the need to ever regrind your knife.