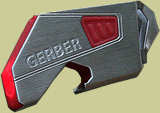 click on image to enlarge
Gerber

31-000385

Technical Specs:
Overall Length: 2 inches
Weight: 0.5 oz.
Battery: 2-CR1616 (8hr run time)
Intensity: 2.5 lumens
Stainless Steel construction
UPC Code:

013658115842

Valid Gerber part number: 31-000385



Gerber Microbrew Red LED Bottle Opener 31-000385

Description:



Bottle opener and light all in one. That is what you get with the Gerber Microbrew Red LED light. Put it on your keychain and you will never have trouble digging around in a dark cooler to find and open your favorite beverage again. The Microbrew is stainless steel construction, 2 inches long and weighs 0.5 ounces. Two replaceable CR1616 batteries power the light for 8 hours of run time.