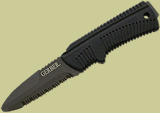 click on image to enlarge
Gerber

22-41028

Technical Specs:
Blade Length: 3.25 inches
Overall Length: 7.75 inches
Blade Material: 3Cr13
Handle Material: Glass-filled nylon with Softgrip Inserts
Weight: 3.8 oz.
UPC Code:

013658410282

Valid Gerber part numbers: 22-41028,22-01028



Gerber Rivermate Knife 22-01028 22-41028

Description:



The Gerber Rivermate model 22-41028 is made from a full tang slab of 3Cr13 steel. This makes the knife stronger because there are no breaks in the metal. The handle is made of glass filled nylon with softgrip inserts. The blade is unique and what you would expect from a river knife. Instead of having a point on the end, the Gerber Rivermate has a flathead screwdriver with rounded edge to avoid puncture. The cutting surface of the knife is fully serrated making it easy to get through stuff like rope and branches. On the end of the handle is a hard surface that is great for crushing objects or hammering things into place. A plastic sheath is included that allows the knife to be inserted frontwards or backwards. The Gerber Rivermate is perfect for rafting, diving, and camping.