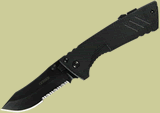 click on image to enlarge
Gerber

30-000383

Technical Specs:
Blade Length: 3.6 inches
Overall Length: 8.4 inches
Blade Material: CPM S30V Stainless Steel
Handle Material: G-10
Weight: 6.7 oz.
UPC Code:

013658122598

Valid Gerber part numbers: 30-000383,30-000185
MADE IN USA.



Gerber SAH Safety Auto Hook Knife 30-000383 30-000185

Description:



When you find yourself between a rock and a hard place, the Gerber Safety Auto Hook (S.A.H.) model 30-000383 is there for you. The partially serrated tactical blade is a modified drop point constructed of dependable CPMS20V high carbon stainless steel. The handle is dual stainless steel/G10 that has been modified to house a DZUS fastener driver and a Safety Auto Hook. This allows the user to quickly cut through harnesses and restraints when every second counts.