Gerber Tools

Gerber Folding Knives

Gerber Fixed Blade Knives

Gerber camping, hunting, survival

Gerber Flashlights
Gerber Recoil Auto-Plier
Gerber Knives Product Number 22-08474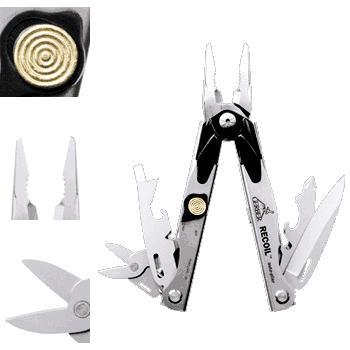 This is discontinued. Please select from our other Multitools.

Key Features
Depress button and pliers spring out and lock in place
Depress button to extract pliers and lock into place
Fiskars scissors
Spring action handles
Product Description:
Gerber Legendary Blades, known for being the leading design manufacturer in multi-tools, takes this category to the next dimension with the introduction of the Recoil Auto-PlierT. Engineers' incorporated strong dual springs into the inner handle thus allowing the needle nose jaw to spring out at the touch of a button, for the ultimate in one hand opening use. Spring-loaded handles also open the tool making it easier to tackle the toughest of jobs. A built-in safety prevents accidental opening. The additional component tools are fitted into the "outboard" sides of the handle. They include: Fiskars Scissors so tough they can through seatbelts, drop point knife blade, wire stripper, twine cutter, cross-head and flathead screwdrivers and can opener. All components lock in place with our patented SAF-T PLUS locking system, the safest, strongest, most durable lock available. The all stainless steel construction provides the strength and durability for long-term use. Includes ballistic nylon sheath.
Technical Specs:
Overall Length: 5.56''
Length Closed: 5''
Weight: 8.6 oz.
Handle Material: Stainless Steel
Sheath: Ballistic nylon
Components:
Automatic needlenose pliers, wire cutter, wire stripper, Fiskars scissors, flathead screwdriver, cross point screwdriver, fine edge knife, lanyard hole.
Warranty: